Recently Savant introduced its new remote control. I was thrilled to see it for lots of different reasons. One of the features that I personally love is the ability to activate your pre-set scenes with voice control directly from the remote. More importantly, the remote programs easily and has a rock solid wi-fi connection 100% of the time. This means it's ready to get to work instantly, no more waiting around for the remote to hook back up to your wirelessly! I have three in my home now and have sold countless others.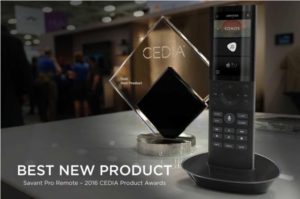 Obviously, I was excited when I learned that this remote control won the "Best New Product" Award at Cedia 2016. Savant really does pride themselves on delivering the best experience in home automation, just like I do.
If you're ready for replacements of broken remotes or just thinking about some upgrades to a Savant or other control system, give me a call to discuss what might work best for you.
Contact us now to discuss how you can take advantage of these new developments.
Phil Giordano, The Big Picture Media Systems